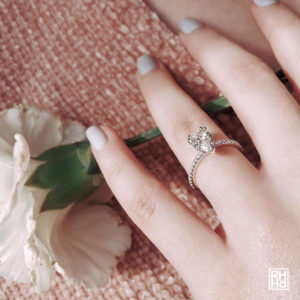 This is because most of the diamond pear shaped rings available in the market contains pointed ends, which may get accidentally caught onto your fabric or get chipped if they are not set in a protective setting.
Diamond ring manufacturers claim that the best setting for large pear-shaped diamond rings is the six-prong diamond setting. Five prongs in this diamond ring setting serve the crucial purpose of holding the center stone in place whereas one prong protects it from accidental damages and chips. This diamond setting is undoubtedly the best choice for customers who are buying diamond pear shaped rings with small center stones.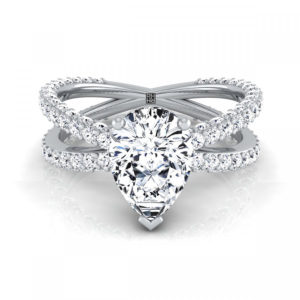 In addition to that, halo and bezel diamond ring settings are also secure options when it comes to pear-shaped diamonds. If you are planning to choose any one of these diamond ring settings, then you need to ensure that the large bottom or V-shaped prong in the setting offers adequate protection to the pointed end of your ring. If not, it is best to go for the six-prong diamond setting.