Diamond accents are small gemstones with a simple cut decorated around the centerpiece gemstone on a ring. Undoubtedly, they can enhance the ring's overall brilliance and fire. In fact, many different types of accent stones are used in engagement rings; one of the popular choices being trillion cut diamonds, which have a triangular shape.
The unique shape of trillion cut diamonds offers you a contrast from the common cookie cutter shapes, rectangular, and square diamond accents which are inseparable from one another. Apparently, there are many of these on the market.
Trillion diamonds, on the other hand, are ideal as side stones since they highlight the main gemstone without having to overwhelm the jewelry piece. They also follow the curve of a diamond ring and setting, such as when using an 18-karat white gold band and 3-stone pave setting.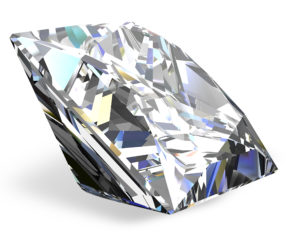 Obviously, trillion cut diamonds work the best when used as accent stones in a three stone setting with a big round brilliant diamond at the center. However, a diamond ring with trillion side stones can also have a cushion, princess, or radiant cut center stone as per the liking of the buyer.