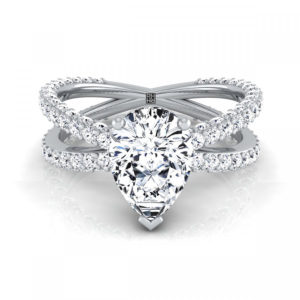 A mix between a round and marquise diamond cuts, the teardrop or pear-cut boast a noteworthy shine and fire. In fact, with 58 facets, it is considered to be the most popular among fancy diamond shapes.
A pear cut diamond can make the finger appear larger than it is, which is a quality of marquise cut stones too. However, a pear cut diamond is said to be a tough one to cut into with perfection for jewelers. That is why it is priced a bit higher than other fancy diamond cuts.
Many pear cuts turn out to be extremely broad or with inaccurate proportions. However, when it is cut perfectly, the teardrop diamond is a romantic and sparkling showstopper.
Pear-shaped engagement rings with pave diamonds or halo are two of the most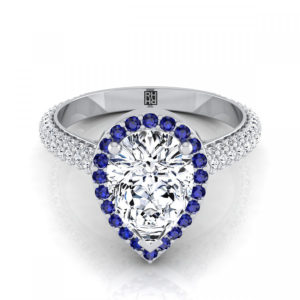 popular settings out there. When it is set with white metal and colorless diamonds, the overall appearance of the jewelry piece looks astounding. You can go for some variations to these settings too, in order to bring out the best shine out of pear-shaped diamonds.