Channel setting has a coup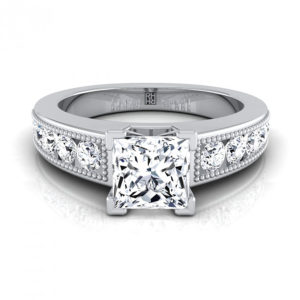 le of parallel metal rails between which the diamonds are mounted down the side of the ring. The setting holds the gemstones in place with the help of grooves built along the channel walls to fit the girdle of the diamond.
Note that girdle is the most vulnerable part of the stone. So protecting it is of utmost importance for the life of your diamond. This is where the channel set comes in, providing the best protection to the diamond than the usual diamond settings like a pave or prong. Furthermore, the channel setting has thick walls that are very difficult to break. This helps to make sure that the diamond remains seated within the ring. This usually stays solid for extended periods of time.
Princess cut diamonds have a square cut shape that further stabilizes its position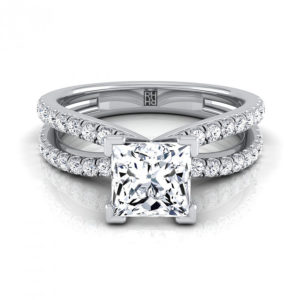 within the setting of the ring. The diamond will be held right next to each other and this will also give it a shiny appearance. Due to its square shape, it is very similar to the shape of a pyramid. This enables the diamond to retain a larger part of the rough diamond. This means reduced prices and increased carat value for the customer.