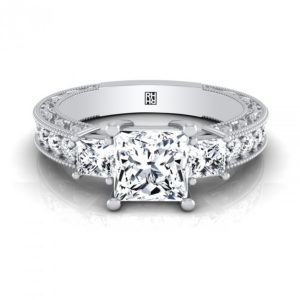 Other diamond ring cuts such as baguette, emerald, and Asscher often shows the flaws and inclusions in them, which will make the stone look less appealing to others. If you wish to avoid such hassles, then you should consider investing in princess cut diamond rings.
If you are planning to invest in a diamond princess cut engagement ring with a small stone, then you can settle for a stone with VS2 clarity grading. However, customers who are buying princess cut diamond rings with large center stones should ensure that the clarity grade of the stones are VS1 or higher, as they have less visible inclusions and flaws.
The princess diamond shape is usually made from top quality naturally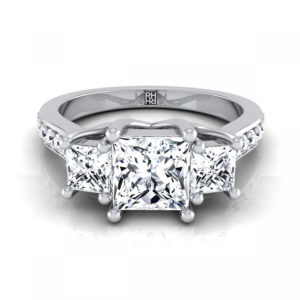 occurring rough diamonds. This means that finding low clarity princess cut diamonds such as Included or Slightly Included may seem like a challenging task. However, if you are able to find an eye-clean princess cut diamond with such a low clarity grade, then feel free to buy the stone, as it will help you to save hundreds of your valuable dollars.