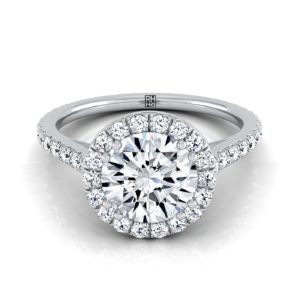 Buying a princess cut diamond solitaire rings is a good choice, and so is buying a round solitaire. After all, princess cuts and round brilliants are the two most popular cut shapes having a high level of brilliance. Both these shapes have some properties in common, while some very different.
Both of these stones have the same cut – brilliant – for maximizing the sparkle and brilliance of the stone. However, the facet arrangement and diamond shape of the two stones are different. Round cut has 57 or 58 facets while princess cuts are available in different number of facets including 58 facets.
When it comes to the color of the stone, princess cut shows yellow tints easier than round cuts. Therefore, if you plan to buy princess cut diamond solitaire rings, you can go for a color grade of G, H, or I, and set the stone in a white gold or platinum band. If you prefer yellow gold band, then you can choose a J or K color grade.
For round cuts, you can opt for a color grade of H, I, or J when choosing a platinum or white gold band; if it were yellow gold, choose a K, L, or M grade instead.