A solitaire diamond ring is one of the classic and timeless choices for engagement rings. Its simplicity and elegance has made it widely popular among brides-to-be. Below are a few of the classic solitaire diamond engagement ring designs you can consider when buying one.
Classic Design
A classic solitaire ring design does not need any introduction. This ring style features a traditional round brilliant diamond with four or six prongs settings set on a platinum or a yellow gold band.
Classic Design with a Twist
If you need a small twist in the classical style, you can opt for a different centerpiece shape like pear, emerald, marquise, princess, or cushion cut diamond.
Nature Inspired Design
In this classic solitaire diamond engagement ring design, floral patterns or leaf-like patterns are provided on the sides of ring band, featuring a solitaire in the middle.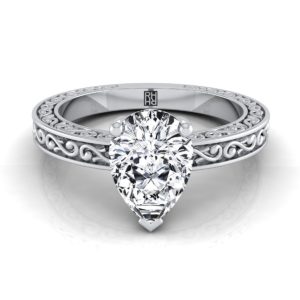 Contemporary Design
For a different touch, you can go for a contemporary solitaire diamond ring that has the centerpiece set in a bezel setting with a wide platinum band.
Antique Design
Yet another popular option for classic solitaire diamond engagement ring is going for vintage designs, which usually come with milgrain or filigree details on the band.