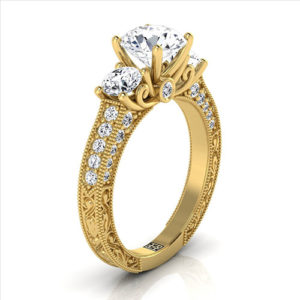 A-list Hollywood celebrities are not the only ones who love to wear stunning and expensive diamond rings. Tennis players such as Caroline Wozniacki, Nicole Gibbs, and Serena Williams are just a few among the ones who own famous diamond engagement rings. The rings worn by these gifted female players who are prime examples of female perseverance and power is worth looking at.
The diamond engagement ring worn by Serena Williams is regarded as one of the best celeb diamond engagement rings ever. The ring was gifted to Serena by her longtime boyfriend, Alexis Ohanian, at their wedding ceremony. The carat size of the stunning emerald cut diamond is estimated to be around 12 carats.
Nicole Gibbs posted a few proposal photos on her personal Instagram account to announce to fans that she has been engaged to Jack Brody. The oval-shaped solitaire diamond engagement ring that Jack gifted to the tennis player perfectly fits her delicate fingers. However, the couple has not yet shared more details about the engagement ring.
NBA player David Lee proposed to Caroline Wozniacki by gifting a stunning 8.88-carat oval-shaped diamond engagement ring to her. The elegantly set pave diamonds in the ring makes the fingers of Caroline look a lot more elegant.