Ever since Meghan Markle first flashed her three-stone engagement ring from Prince Harry, the classic diamond engagement ring style has been trending again. It's not just the royal influence, it's also because couples are looking for a ring that's timeless but really individual too.
The three-stone engagement ring category has a surprising number of options. You can make it your own by choosing different combinations of diamond shapes, design options, metal colors, and band styles.
Here are our customer's top 7 favorite three-stone engagement ring styles.
1. Cushion Cut Three-Stone Diamond Engagement Ring With Round Side Stones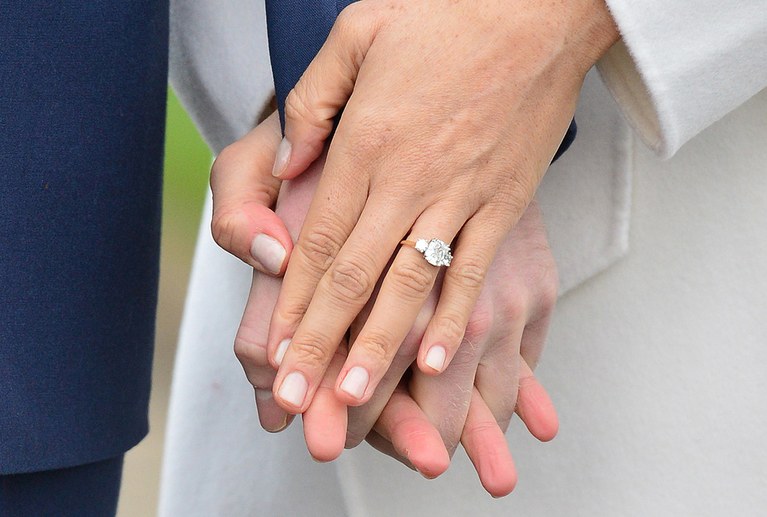 How could we not swoon over everything about Meghan and Harry's royal love story? Meghan's three-stone engagement ring has a cushion cut diamond in the center with two round brilliant diamonds on the sides (even better they were originally diamond stud earrings from Princess Diana.) The cushion cut gives the classic Anita Three Stone Engagement Ring a vintage feeling while still staying streamlined. Cushions are increasingly popular because they look larger and cost less per carat than round brilliant cut diamonds. And if you are a fan of fancy shapes but also want a diamond with the brilliance and sparkle of a hearts and arrows cut, the Cushion Brilliant gives you the best of both worlds. Like Meghan, add a yellow gold or rose gold band for a custom touch.
2. Triple Round Three-Stone Diamond Engagement Ring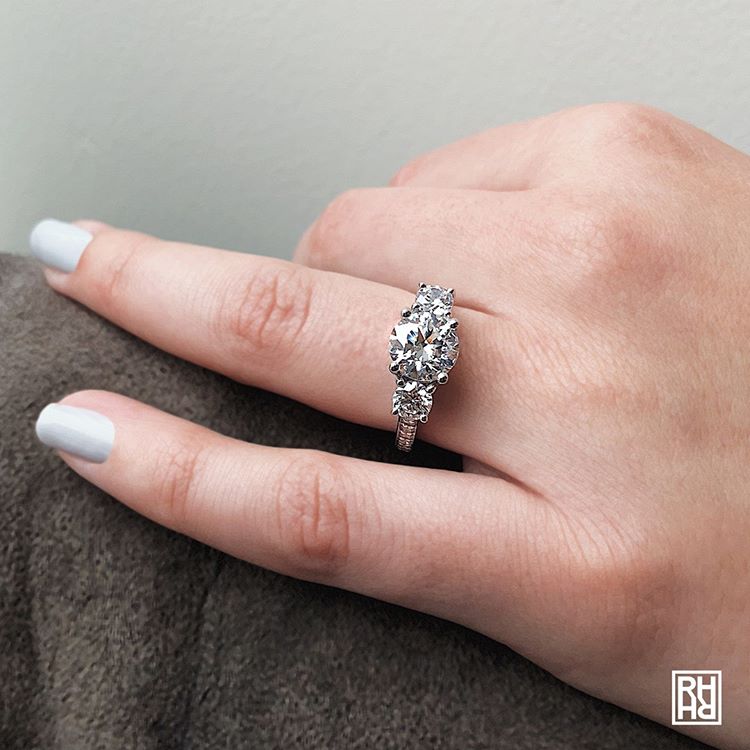 The original and still the most popular, the classic round brilliant three-stone engagement ring has a lot going for it: especially its beautiful symmetry and maximum sparkle. The Avery Three Stone Engagement Ring has a diamond pave band that adds even more sparkle. If you prefer a plain band, the Natalie Three Stone Ring is beautiful in warm yellow or rose gold as well as white gold.
3. Triple Oval Three-Stone Diamond Engagement Ring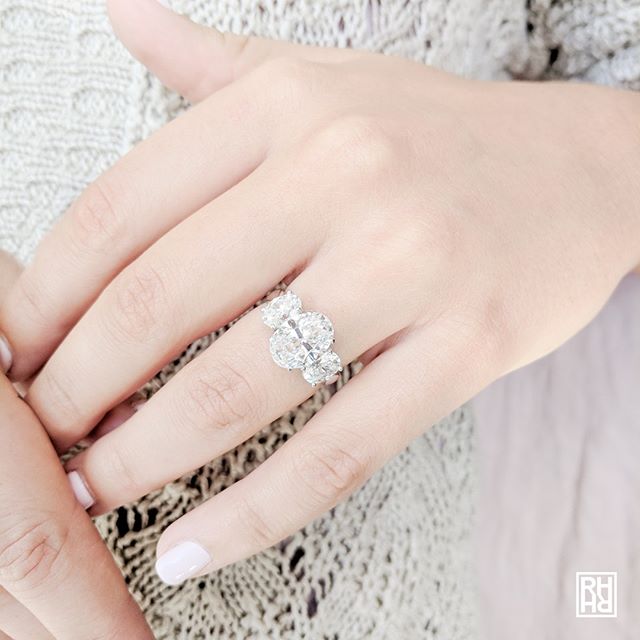 Elegantly bold yet refined, the triple oval cut three-stone engagement ring is having a moment thanks to the popularity of oval cuts overall. The oval three stone engagement ring shares the finger-lengthening superpowers of the oval solitaire and adds the finger covering brilliance that makes three-stone styles so appealing. If you want a unique twist on this style, you can even set all of the ovals or just the side stones east-west.
4. Combination Three-Stone Halo Cluster Engagement Ring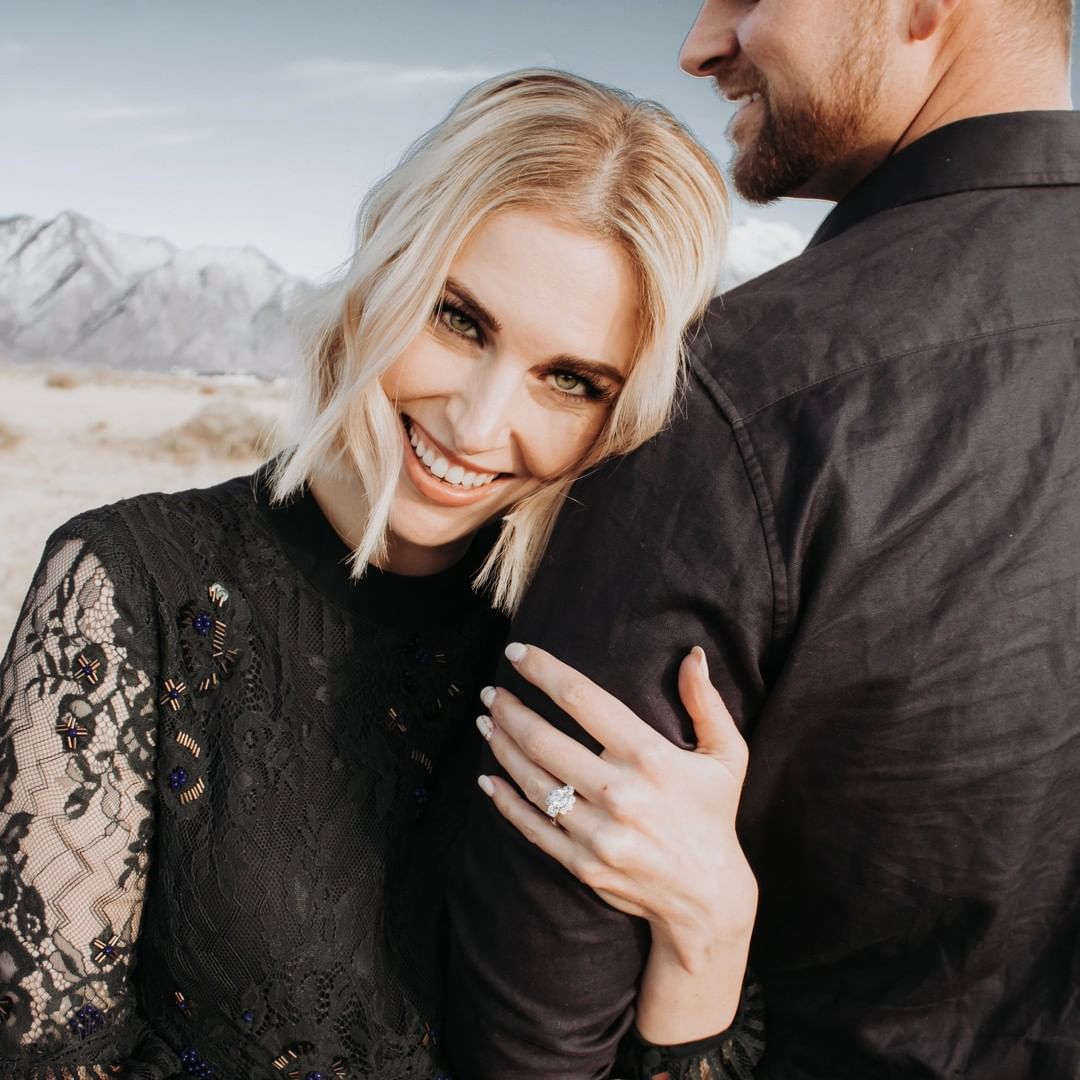 We love three-stone engagement rings. But we also love halo engagement rings. We combined the best of both into the unique Pamina Engagement Ring. We made the halo out of larger diamonds and added three-stone side diamonds for a unique look that is inspired by vintage cluster rings but is strikingly modern. We're so happy that our customers love it as much as we do.
5. Triple Princess Cut Three Stone Engagement Ring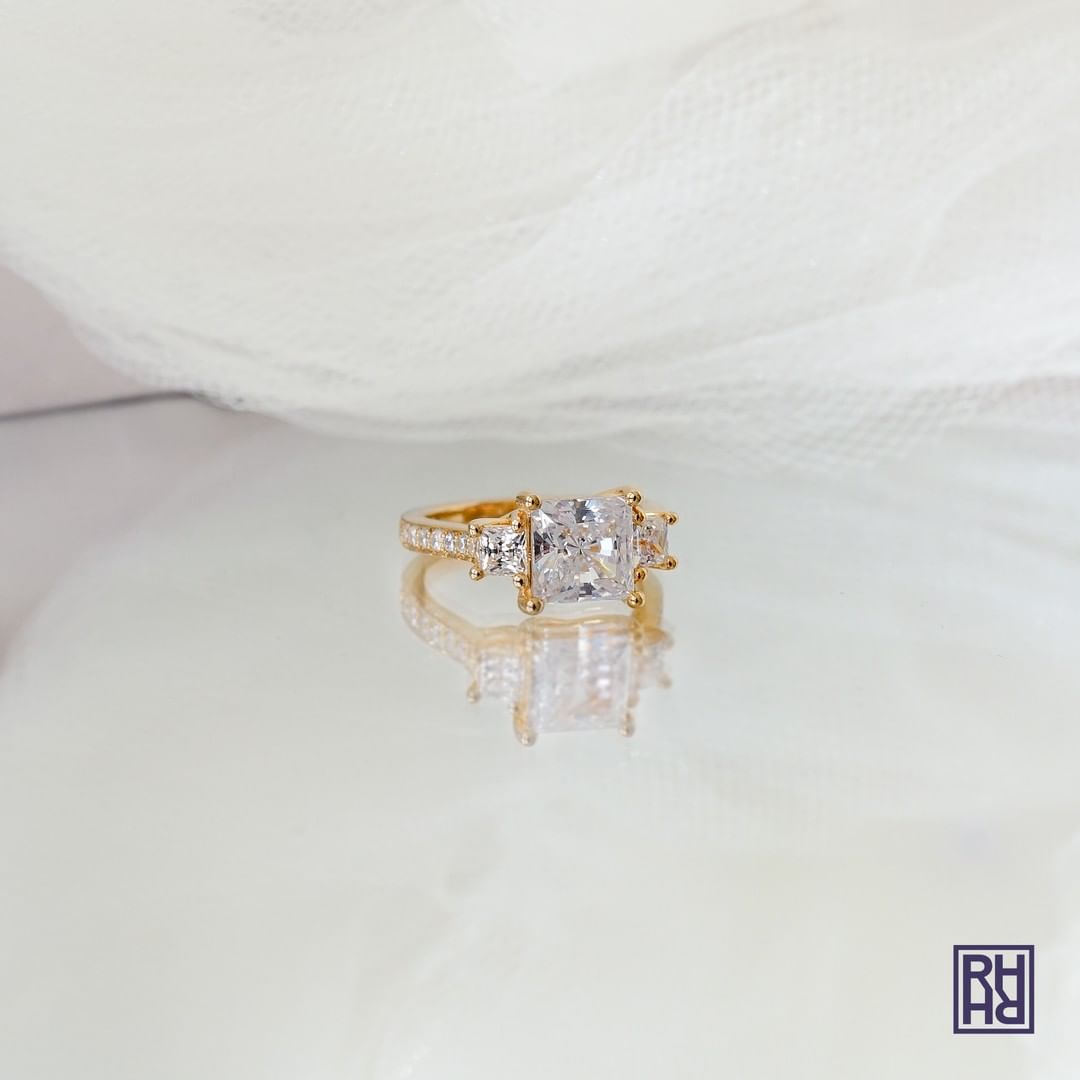 If you love geometry, the ultimate three-stone ring has three princess cut diamonds. They line up so elegantly, stepping down in size gracefully to the band. The triple princess Avery Three-Stone Engagement Ring adds even more brilliance with a pave diamond band. Want to play with the symmetry and customize your three-stone princess cut ring? You can rotate the center or side princess cuts 45 degrees so they form diamond shapes.
6. Halo Engagement Ring With Side Stones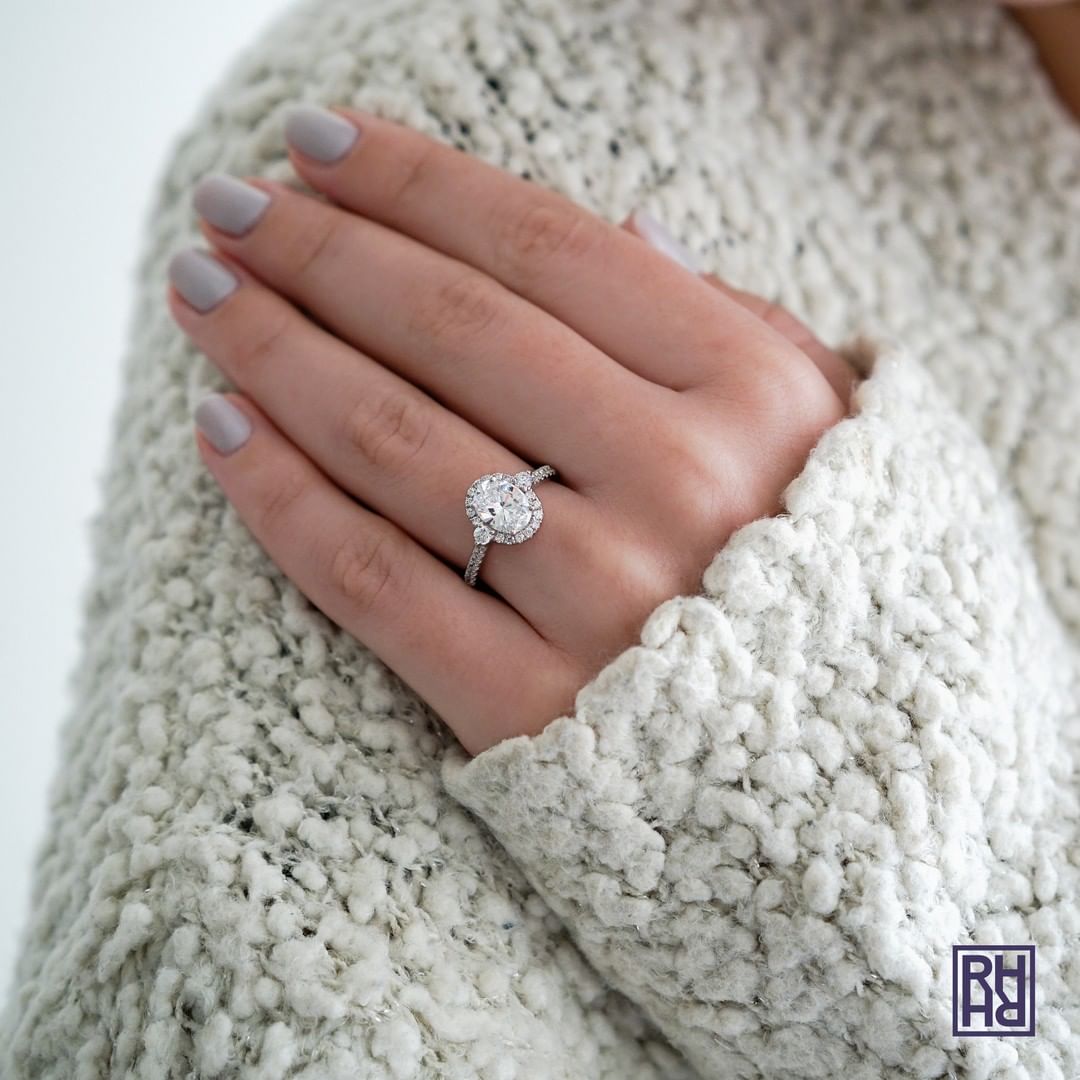 Halo engagement rings are very popular today because that sparkling frame of diamonds makes the center diamond look larger and more brilliant. But if you are looking for a diamond halo that's unique, you can add small side diamonds. The Ivy Engagement Ring is a more delicate version of our innovative Pamina Ring. It's a classic refined combination that gives you the best features of both halo and three-stone styles.
7. Three Diamonds, One Halo Engagement Ring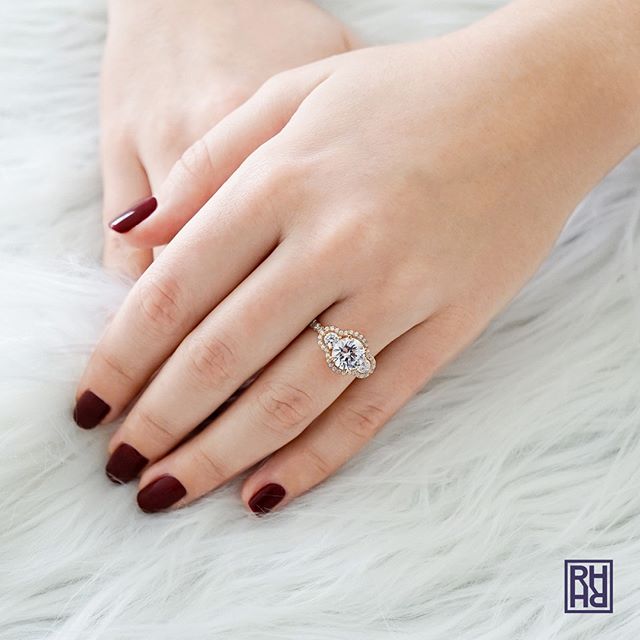 There's more than one way to combine the charms of a halo engagement ring and a three-stone engagement ring. Just look at how beautiful the Andrea Three Stone Engagement Ring is with a halo that surrounds all three diamonds, like a movie marquee drawing your attention to the main attraction. It's a unique spin on the three stone concept that you are sure to love forever.
Create Your Own Unique Three Stone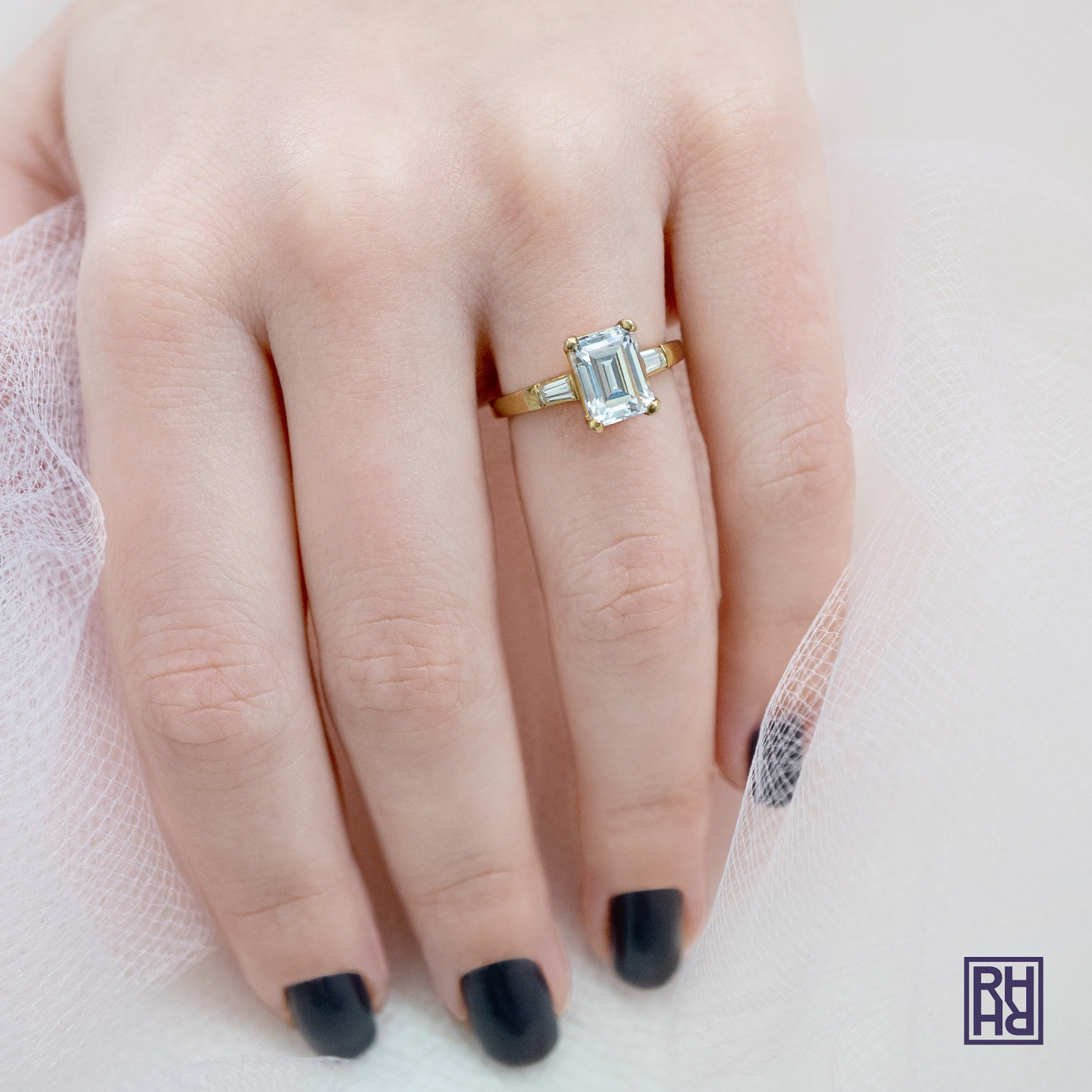 We've just scratched the surface of beautiful three stone engagement ring styles. If you love halo engagement rings, a triple halo ring is even better, right?
We're also crazy about three stone engagement rings with pear shape side diamonds. Fancy shapes are particularly suited to three stone styles. Another classic three-stone style has tapered baguettes on the sides with your favorite diamond shape in the center.
And let's not forget colored gemstones and fancy colored diamonds in beautiful hues that are highlighted by contrasting them with diamonds on the side or in the center.
Create your own combination to design a ring that's uniquely yours.
%%%FY80106HIVS-CU125RH,FW80082HIVS-RD125RH,FW80081HIVS-RD125RH,FW80164HIVS-RD125RH,EY80082HIVS-PR125RH,FW80192HIVS-OV125RH,FW80164HIVS-RD125RH,FR80059HIVS-RD125RH,EW80107HIVS-RD125RH,FW80060HIVS-RD125RH,EW80105HIVS-RD125RH%%%