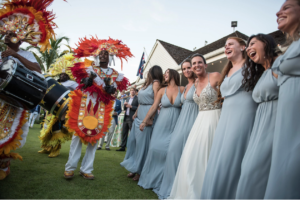 If you're a woman about to walk down the aisle in near future, you probably have your hands full planning and prepping for the big celebration. One thing that is easy to forget is gifts for your bridesmaids. These women will stand beside you as you tie yourself to that special someone, so they deserve a little something to show them what their support means to you; that goes doubly so for your maid of honor. Following are some valid reasons to present your best friend with a full diamond ring.
Matching Looks
You probably picked out matching dresses and shoes for the big occasion, because a coordinated look always sends the right message. Go one-step further with diamond jewelry for your maid of honor to complete the matching ensemble.
Something to Remember you by
The jewelry you gift to your best friend goes into her personal collection and becomes something special to remember you by in case life sets the two of you on divergent paths. Each time she pulls it out of her jewelry box, she gets to remember you on your most special day, and how beautiful and happy your wedding day was. Even if you end up spending Holidays apart, for example, you'll always be connected.