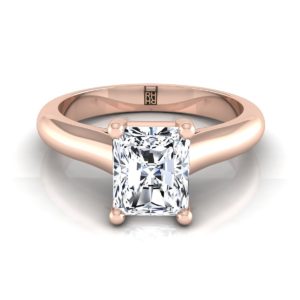 A variety of these can be used in an engagement ring, but what you prefer personally is what should dictate the specifics of your purchase. A ring with a radiant cut diamond, for instance, is a fine addition to any jewelry box.
Radiant cut diamond engagement ring settings feature a square-shaped stone with rimmed corners. These are known for their intense fire, which comes out well thanks to 70 facets, deep cut, and broad pavilion. Few other fancy cuts can beat the radiant cut, whether in terms of looks or versatility. You could set a solitaire or go with side stones, and get an equally appealing design. Both large and small carat sizes suit the radiant cut and can manage to draw the eye from across the room.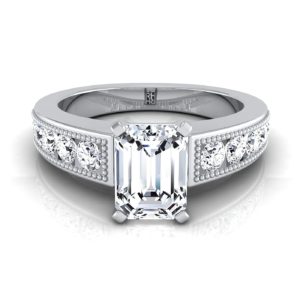 The best part though is that this cut excellently obscures color tints and blemishes, as well as inclusions. This makes it one of the go-to cuts for both engagement and wedding rings.