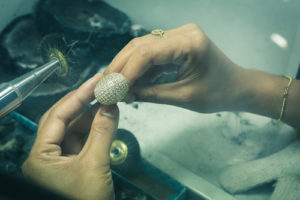 This description suits whether it is one of the ostentatious diamond dinner rings white gold or those set with other precious metals.
Just because women only take out their jewelry for special evenings does not necessarily mean that it need not be handled with care. As with any possession or investment, you will have to take proper care of your favorite dinner diamond ring too. Jewelers suggest getting the prongs of the ring professionally checked once a year and having it cleaned every six months. Some of the diamond sellers also provide cleaning service for a stipulated period, which is communicated at the time of the purchase, so you can have it cleaned and checked by professionals when you need the same.
In addition, you need to keep the diamond dinner rings white gold away from
any harmful chemicals as well because they can tarnish the metal of the jewelry. After all, the jewelry is meant to be flaunted in social gatherings, so you must make sure that the sparkle of the gem and shine of the precious metal stays as new as possible.