The main thing is that wearing a large diamond eternity band makes you stand out. These are not the pave set type, in case you were wondering. The U and prong settings work much better at bringing each diamond a pronounced look. The only disadvantage is that you would struggle to find a matching engagement ring to go with it. In fact, almost no ring would suit, since the band would stand up a lot taller on your finger. These protrude considerably further than dainty bands.
You could switch hands to ensure both have enough bling on them to draw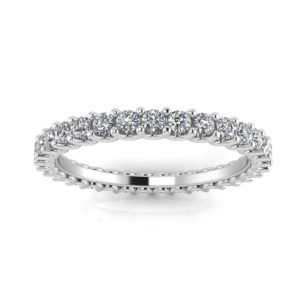 admiring stares from across the room. Mixing metal colors too becomes an option here. Besides that, eternity bands make some of the best travel rings, especially if you tone down the appearance to achieve an understated effect. This is because not all of the sparkle gets concentrated on the center stone, so the ring stays relatively inconspicuous.