The timeless elegance of a rose gold diamond ring makes it an ideal choice for wedding and engagement rings.
However, several customers who are in search of a rose gold diamond ring are not aware of the fact that rose gold doesn't exist naturally. In fact, rose gold diamond ring manufacturers create it by using metals, alloys, or a mixture of metals and alloys. The color of these types of diamond wedding and engagement rings typically ranges from a copper-red color to a light-radiant blush pink color based on the types of metals and alloys that are used in the rose gold alloy.
For example, light pink rose gold wedding ring or band is formed due to the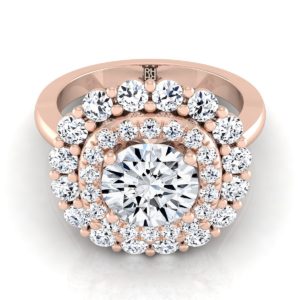 mixing of copper and yellow gold. Rose gold diamond engagement rings with darker colors usually contain a greater concentration of copper in it, while most of the rose gold diamond rings with lighter pink gold colors usually have less copper content within them.