Their overall shape resembles warriors' shields, hence the name.
They are used as side gemstones for engagement rings where the wide end is placed close to the centerpiece gemstone as well as the pointed end runs down their shank. Owing to the uniqueness of shield-shaped diamonds, they can also be used for pendants and dangle earrings.
You can find many engagement rings diamond cuts in the market these days. However, if you want something more distinctive than traditional diamond shapes, then shield cut diamonds are worth a shot. In fact, many of the famous diamonds in the world are shield-shaped.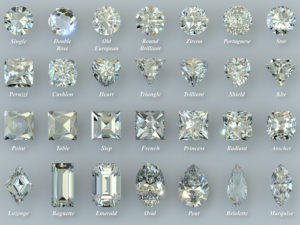 Take for instance the Guinea Star Diamond, Moussaieff Red Diamond, and Sancy Diamond. The first diamond of the three weighs 89.01 carats, has a D color grade, Flawless clarity, and modified shield shape. The second one weighing 5.11 carats is considered the largest color diamond with Fancy Red color. On the other hand, the third one is a pale yellow diamond that weighs 55.23 carats and is said to be of Indian origin, and one of the earliest big diamonds to be cut with many symmetrical facets.