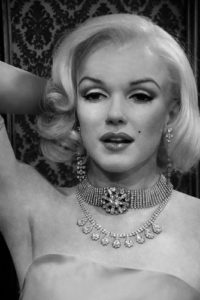 However, several customers are a little bit hesitant to buy yellow canary diamonds because these stones come at a higher price tag. In fact, yellow canary diamonds were once considered as ideal for rich and famous people only.
One of the famous Hollywood celebrities who owned canary yellow diamonds is Marilyn Monroe. The actress had a rare and unique 24.04-carat canary yellow diamond that was mined from the famous Golconda mine in India during the early 16th Century. Marilyn Monroe said, "It's gorgeous" after getting a glimpse on the stone for the first time in her life.
Marilyn Monroe was touring the world for her 1953 comedy film, Gentleman Prefer Blondes, when she received the 24.04-carat canary yellow diamond. Also called the Moon of Baroda, it is believed that the stunning canary diamond belonged to the vast collection of the Habsburg Dynasty, which was one of the most powerful and ancient ruling families in India several centuries ago.