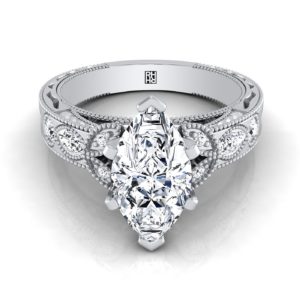 If so, you can consider choosing from one of the styles mentioned below that go well with a two-tone band.
In this design, two heart shapes with contrasting metal hues are incorporated to give a beautiful and elegant look to the two-tone diamond wedding ring.
Subtle Accents
A split shank may not have enough room for a two-tone ring embellishment. An alternative to this is giving a twist of another metal within this design for enhancing the centerpiece.
Simple Accents
It is not necessary that the two-tone diamond wedding ring uses two tones in equal amounts. Instead, a diamond ring with a double halo with each halo set on a different metal color will be a unique choice.
Pave Insets
Giving pave diamond accents in a band having two-toned metal tones will look absolutely stunning as the pave highlights the different inset metal and gives the ring an extra sparkle too.
Filigree Designs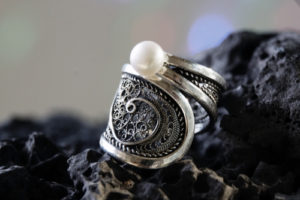 Two tone rings are the best to feature details like filigree. Geometric etchings, Celtic knotwork, and other filigree details can be added to the diamond ring for adding an extra beauty to the ring.