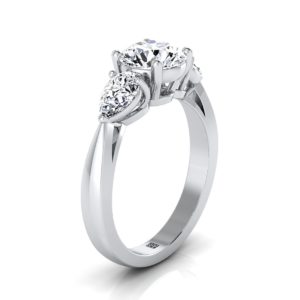 Finding the right type of pear-shaped diamond rings that compliment the fingers of your bride might not be a tough task.
One of the most famous Hollywood celebrities who love pear shaped diamond rings is the Grey's Anatomy star, Katherine Heigl. The diamond engagement ring worn by the actress is a teardrop diamond, which is elegantly set in a micro-pave halo on a plain and simple band. The design of this celebrity diamond ring is heavily influenced by the Art Deco jewelry style of the 1920's. The radiant halo in Katherine Heigl's diamond engagement ring has amplified the impact and sparkle of the center stone.
Other than her, one of the most popular professional basketball players, LeBron
James, also proposed to his high school sweetheart by gifting a 5-carat pear-shaped diamond ring. The ring featured elegantly set tapered baguette diamonds on each side, which added more elegance to it. The estimated price of the pear-shaped diamond engagement ring is estimated to be around 300,000 dollars.