These sharp ends make the stone very prone to damages like chipping, accidental hits, etc. Hence, if you have a pear cut diamond, make sure to secure it well using a suitable pear diamond ring settings. The two most common pear cut diamond ring settings are prong and bezel settings.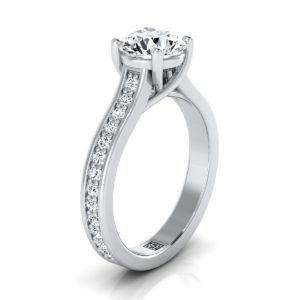 If you want to expose the center stone more, then prong settings will be a good choice. Most commonly, the prong settings have a four prong or a six prong to secure the stone. The six-prong setting will be able to secure the stone better than the four-prong setting. In some cases, the pointed edge is left exposed, while in other cases, it is secured with a V-prong.
Yet another pear diamond ring setting is the bezel setting that is known to be safer than the prong setting. However, as this setting covers the edges of the stone entirely, the sides will not be visible. The bezel setting will be a good choice if you wear your pear cut diamond ring daily; if you wear it only once in a while, prong settings would be a good pick.