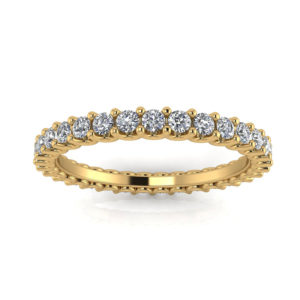 Actually, the practice of gifting a diamond full eternity ring to your better half started 3000 years ago and its charm never faded until now.
Currently, people tend to make their diamond full eternity rings trendier by incorporating some stylish elements. One of the contemporary designs for an antique diamond full eternity ring features a spiral diamond band instead of a simple metal band. Here, a huge blue diamond is also encrusted at the center by means of a prong setting in order to lift up the overall appeal of the ring.
A cheaper option for stylish diamond eternity ring is a Damascus diamond ring.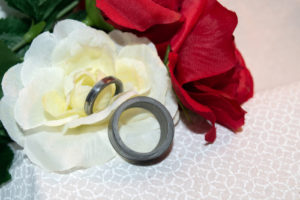 In this design, the eternity band is made using the Damascus steel. Note that this metal was used to make swords in many countries because of its inimitable hardness and durability. Additionally, a classic prong setting is used to hold the gemstones in place here. You can also elevate the design by choosing asymmetrical diamonds instead of similar ones.