It is to be noted that sapphires, rubies, emeralds, and pearls are most commonly used gemstones in diamond engagement rings.
One of the trending designs for diamond rings with gemstones features an 18k rose gold ring with a halo setting. Here, a huge sapphire stone that is prong-set is surrounded by melee diamonds, which is secured by means of a bezel setting to provide a vintage appeal to the ring. Additionally, the diamond ring band is also paved with tiny diamonds in order to bump up the overall bling factor of the ring.
An evergreen design for diamond rings with gemstones showcase a diamond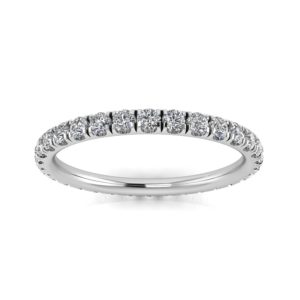 ring band paved with multicolored gemstones; for instance, consider yellow sapphire, pearl, emerald, aquamarine, garnet, coral, etc. The ring almost resembles an incredibly colorful eternity diamond ring, which makes these types of diamond engagement rings ideal for both the bride as well as the groom.