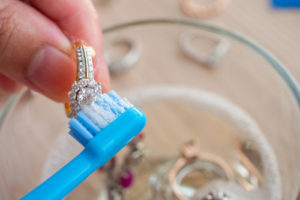 Grease builds upon the material of the gem easily, and natural oils in the skin can cloud its surface.
You may actually need to clean a diamond ring more often, like twice a week, especially if it is newly bought. Even thin film can cloud the shine of a diamond, and people may need to touch the ring when showing it off, particularly if they just got engaged or married.
To keep it in a clean state, you will also want to consider the services of a professional jeweler once or twice a year. They will surely know how to clean the diamond platinum ring using professional-grade products. In fact, it is wiser to have it professionally cleaned in case it has a compacted layer of oil or dirt.
Another important thing to keep in mind when using the jewelry is to take it off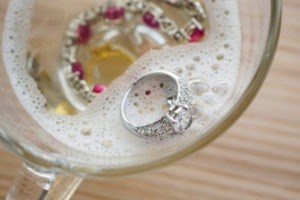 when doing something that necessitates getting hands dirty or involves getting into contact with abrasive or harsh chemicals. You may want to take the diamond ring off prior to swimming in a chlorinated swimming pool as well. That is because chlorine can actually damage some metals and ruin their appearance, including platinum.