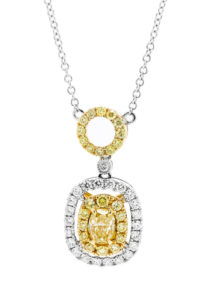 Put simply, a diamond ring pendant can be defined as a necklace that comes with a center stone attached to a jewelry chain with the help of a tiny loop. The jewelry chain to which diamond pendants are attached is usually made of platinum, gold, or other precious metals.
The word 'pendant' actually comes from a Latin and French word, which means 'to hang down'. Diamond pendants are considered a symbol of romance and love. As a result, couples gift a diamond pendant to their loved one in order to show their eternal love and commitment to their partner.
When planning to buy a diamond pendant, you should initially consider the reason and occasion for the purchase. For instance, if you are planning to gift diamond pendants to an old friend of yours, then investing in an emerald cut diamond would be a great decision, as it employs an impression of integrity and strength. Moreover, a heart shaped diamond pendant would be a great choice for your significant other.
Three stone and solitaire diamond pendants are the most popular diamond pendants out there in the market today. You should also consider checking out the rest of the many styles and designs for diamond pendants before making a purchase.