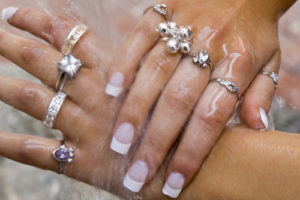 A chunky diamond ring is a perfect option to flaunt your fashion at dinner parties since it makes a bold style statement. Such bulky rings usually showcase unique designs such as a wide band that covers even a knuckle of your finger, bizarre patterns, huge gemstones, etc.
In fact, some people have even started incorporating this type of unusual diamond ring designs on their engagement in order to stand out from the crowd. This is also the case because a chunky diamond engagement ring offers the flexibility to choose the designs, patterns, types, and shape of gemstones in copious amounts that match your liking.
There are many amazing designs for a chunky diamond ring. For instance, consider a wide platinum diamond band that is enchanced by using hammered patterns. Additionally, tiny accents are set into the tiny grooves made on the ring in a random manner. This type of unusual diamond ring designs is mostly seen in men's diamond rings.
Another beautiful option for a chunky diamond ring features a wide platinum band that is embellished with a vintage finish and cutwork pattern. Here, the band is designed in a way that it gets wider towards the center. Additionally, a huge black diamond is bezel set at the focal point of the ring in order to lift up the overall appeal of the diamond.