Oval cut diamond rings have been in vogue since diamond rings existed. While the elongated diamond shape has been a distinctive choice, offering the blend of silhouette and brilliance, it is seen that more and more people are choosing them as center stones of an engagement ring.
Oftentimes, shoppers look for round cut diamond rings instead of oval cut diamond solitaire engagement rings even though the latter cut has been favored for its resemblance to the former. Perhaps customers fancy the way of framing either end of a diamond in a split shank setting, which allows the brilliant ring to take up more of the space on a finger. However, halo diamond rings are an extremely popular choice as well, since they encircle the center stone in a swathe of brilliance from what it already displays.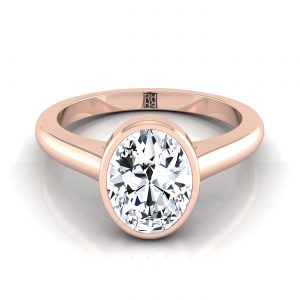 Oval cut diamonds are usually chosen  by brides because their length brings a vintage opulence when worn, drawing the attention of others and helps the wearer make a statement. Moreover, a simple metal band adorned with micro-pave diamonds is at times all you need to complement an oval cut diamond centerpiece. Usually, these slimmer metal bands will emphasize the quality and size of the center stone.