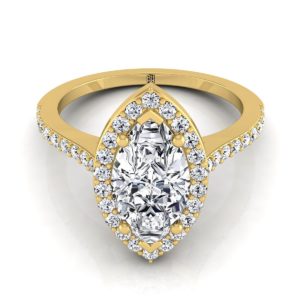 The most basic form of the marquise solitaire is one that brings elegance to the fore. However, adding a halo to this can exponentially improve the visual appeal.
In fact, the marquise cut diamond engagement ring with a halo is a popular choice among brides-to-be. Its slender shape serves to elongate the finger, and the halo itself broadens the setting to allow maximum show.
The marquise cut gets its name from Marquise de Pompadour. It derives from a legend in which the Sun King Louis XIV wanted a diamond to be cut to resemble the Marquise de Pompadour.
When looking to buy a 1 ct marquise diamond ring, it is advisable to seek out a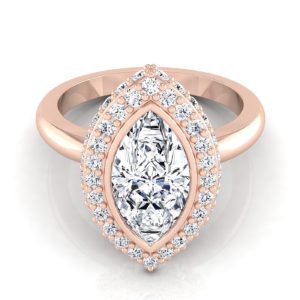 wedding ring friendly design. The setting should be able to be lifted to make room for a plain or diamond-set wedding ring beside it. It is also important to make sure the diamond has reputable certification.