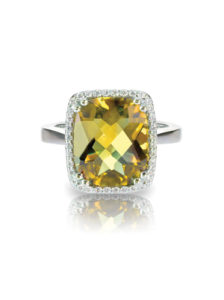 In fact, Heidi Klum's canary yellow diamond was specifically crafted for her in order to make sure the gemstone looks perfect on her beautiful hand.
According to reports, her engagement ring is set with a 10-carat gemstone, even though some sources listed it as an 8 carat stone, and boasts of a gold band with tinier yellow diamonds encircling it. The Heidi Klum yellow diamond ring is worth about $150,000. It was presented to Heidi Klum when she was with the English singer-songwriter, Seal, on a romantic ski vacation in Canada in 2004. Seal opted to construct an igloo on the mountains for Heidi Klum and had arranged a helicopter to take them there, so he could propose to his bride-to-be with the gorgeous canary yellow diamond.
The canary diamond gets its shade distinct to other colored diamonds to some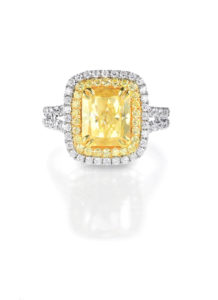 extent. It gets the yellow hue when nitrogen atoms within it absorb the blue light. Besides, the fancy colored yellow diamond may have a secondary shade, such as brown or orange.