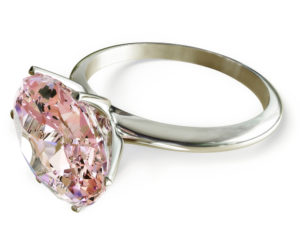 It is no secret that celebrities are fond of diamond rings with unique cuts and designs. The diamonds in the celebrity rings can be as over sized as their larger than life personas, yet it can also be understated and subtle. For the hard-working individual, who spend their months of income on a diamond ring, these rings can be an aspiration. They have been in vogue since the times these celebrities have started to appear in public more openly than before.
Do you think you could rock the Argyle diamond ring, which pop singer Enrique Iglesias gifted to his long-time girlfriend Anna Kournikova? The ring features a pear-shaped pink diamond weighing 11 carats at the center, which is flanked by trillion-cut diamonds. The centerpiece diamond in Anna Kournikova's ring comes from the Argyle mines in Western Australia, where the gemstones have a cognac and champagne color.
Anna wore the pink Argyle diamond ring during her professional tennis playing days for Russia back in the 2000's, so one can only imagine how much it meant to her. Besides that, she also has a radiant-cut yellow diamond ring, which has been doing the rounds and getting people's attention since her marriage with Enrique.