Some metals are better than others when it comes to specific properties, and can better convey the traditional rugged look that most men prefer.
Titanium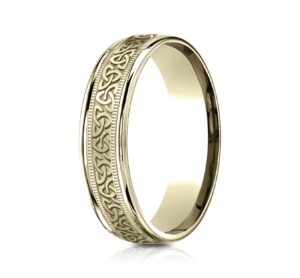 This metal has grown in popularity ever since it was first used in jewelry. Despite a relatively low resistance to scratching, it weighs very little and is significantly strong, as well as easy to wear. It does not contain nickel, which means it is hypoallergenic and resistant to tarnishing. If you choose not to get a diamond set, then titanium is a good metal to go with.
Ceramic
Few things can scratch ceramic, and that leaves it glossy and exquisite over a long period of wear. Much like tungsten carbide, it masks signs of wear. Ceramic cannot be resized, and can break under high and hard impact.
Cobalt
Cobalt rings are unplated, meaning their color does not fade. White as platinum and hypoallergenic to boot, cobalt resists scratching and is hard to break. It weighs more than titanium and less than tungsten, leaving it a comfortable option to wear on your finger as a ring with a rounded inner edge.