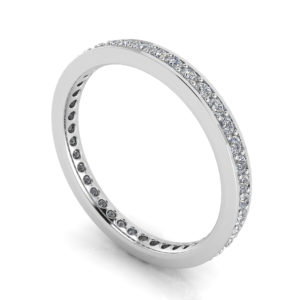 With options such as solitaire knife edge ring styles and thin bands measuring about 1.8 millimeters, the proportion of the gemstone to the thin band's subtle appearance can make the center gem appear bigger. So if you are a fashion forward woman, then a thin ring with diamonds will be more suitable for you.
A thin band is also a wonderful option in case you plan to stack multiple rings or bands in the same ring finger. Starting with a thin band engagement ring allows more space on the finger, so you perhaps will be able to stack a ring even after the wedding.
A thick band ring is often selected for men, but they can be a perfect match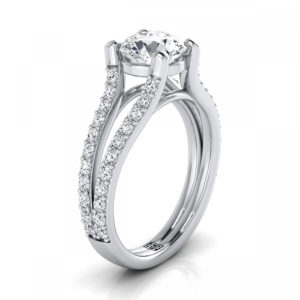 for women too who want a bold look from their jewelry. Thick ring bands, mostly between two to three millimeters, are very durable and can produce more sparkle when coupled with proper settings. In fact, a thick band's added support allows more room for more diamond carat weight no matter whether you fancy a single bigger row, a three-row pave setting or a split band style.