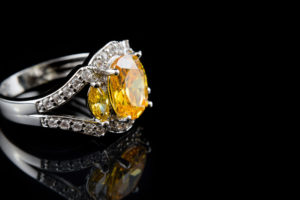 The most common citrine diamond citrine ring you may get is the Amethyst, which gets its color by heat treatment.
A diamond citrine ring is a good choice of the ring; however, you need to make sure not to wear it while doing activities such as house cleaning, dishwashing, etc., as it may get cracked when exposed to a strong blow. Aside from that, you also need to clean it regularly to maintain the shine and brilliance of the gemstone.
Steps to Clean Diamond Citrine Ring
Fill a container with warm water and add mild detergent or soap to it.
Subsequently, clean the gemstone by gently scrubbing it with a soft brush or a cloth.
After cleaning the citrine stone, clean the metal of the ring using a brush and remove any accumulated dirt in the settings.
Rinse the ring properly with water and dry it using a soft cloth.
Note: Do not steam clean the diamond citrine ring or air-dry it, as it may result in spots on the surface of the gemstone. Overexposure to heat may damage citrine stone as well.