Below is a look at two of the most iconic pieces of jewelry in history that received a lot of global attention.
Sunrise Ruby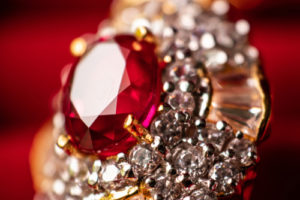 Back in May 2015, the gemstone named Sunrise Ruby became the costliest colored gemstone to be sold until then. The sale was made at Sotheby's auction in Geneva, and the deal was struck for $30 million. During the time, the Sunrise Ruby weighed 25.59 carats.
The Sunrise Ruby was found in Burma, and it is one of the most precious rubies due to many reasons. It has perfect saturation levels and is of high-intensity red color. The Swiss Gemological Institute described this ruby as "a unique treasure of nature".
Elizabeth Taylor's Emerald Pendant
The Bvlgari emeralds and diamonds suite that belonged to Elizabeth Taylor has
always created a lot of buzz in the industry. Gifted to Liz Taylor by Richard Burton, the jewelry set featured a Columbian emerald seated within a diamond brooch.
Tagged as the world's most expensive emerald, the stunning jewelry was sold for a record $6.5 million at a Christie's auction in 2011. The necklace, the bracelet, and the ring in the jewelry set were auctioned separately.