Some of the exclusive styles of Hawaiian diamond rings are given below.
Solitaire Ring: In this style, the centerpiece will be any shaped diamond set on a curved band that represents beach waves.
Figural Ring: Figural ring styles use Hawaiian designs like sandals, sea turtles, and palm trees, typically with a channel or pave setting.
Dolphin Rings: Here, the ring has a range of designs that symbolize the rich marine life of the island.
Floral Ring: In this type of ring, the state flower of Hawaii, Hibiscus, is featured either as a single bloom or as multiple flowers.
Engraved Rings: Engraved rings feature Hawaiian designs like sea life, tropical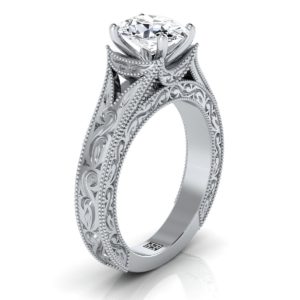 flowers, beach waves, bamboo, etc., etched on the ring.
Custom Rings: For customized Hawaiian diamond rings, people usually prefer to get their names in Hawaiian translation etched to the ring bands.
Inlaid Ring: This ring uses popular gemstones having an aquatic color such as aquamarine, tanzanite, etc.
Pearl Rings: Black pearl and white pearls are popular picks here, especially if those are from Hawaii.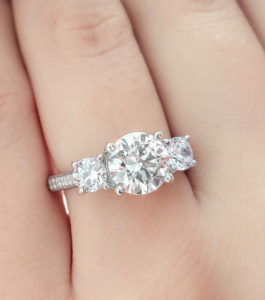 Diamond Rings: Black diamonds very well symbolize the wonderful black sand beaches in Hawaii. This is a popular design for unique engagement rings.