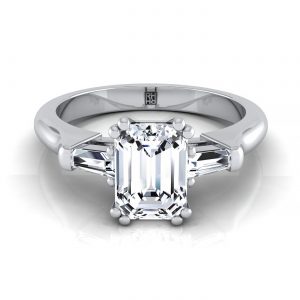 Baguette cut diamonds are diamonds that come in rectangular shapes and are always step cuts having fourteen facets. These diamonds are often used as side stones rather than as centerpieces. A baguette diamond ring is a good pick for a mix of vintage and contemporary aesthetic.
While shopping for baguette diamond wedding rings with multiple stones, make sure that the center baguette diamond color matches well with the color of side stones or accents.  You want to do this to increase the overall cohesiveness of the ring design.
Round brilliants and princess cut diamonds look whiter when compared to baguette diamonds having the same color grade. Hence, if you buy a baguette diamond wedding ring having either of these cuts, go for a stone that has a higher color grade.
Because the baguette cut is a step cut, this means that the imperfections are more visible. However, these cuts are smaller than other cuts, so as long as you are not able to see any blemishes or inclusions with the naked eye, the clarity grade will not be of much importance.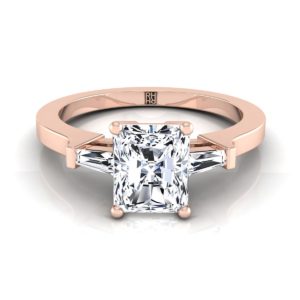 You can choose baguette diamonds as side stones for your baguette diamond wedding ring too, as these cuts complement well with almost all stone shapes. At the same time, they will not detract from the beauty of the center stone. These cuts are also a great recommendation because they are are cost-effective too.