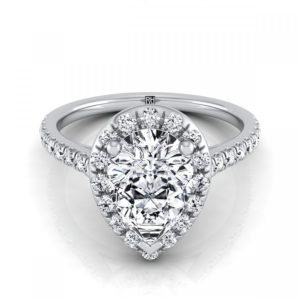 Since the silhouette of the stone replicates a teardrop, such diamonds are also known as teardrop diamonds.
In order to highlight this amazing outline of pear-shaped diamonds, you must choose its settings wisely. Plus, you must give priority to the pointed edge of the gemstone since it is vulnerable to external damages such as chipping, scratches, etc.
When it comes to choosing the settings for pear-shaped diamond engagement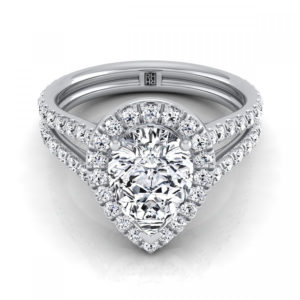 rings, prong settings will be a suitable option. This way, you will be able to show off your sparkling rock to the fullest. However, prongs are vulnerable to bends and breaks, and hence, you must consider either a six-prong setting or a V-prong setting. Again, the latter teardrop diamond ring setting will be a better option since the V-prong will perfectly contour the vulnerable tip of your gemstone.
Another suitable option, which is perfect for all those couples who lead a hands-on lifestyle or those who are way too clumsier, is the bezel setting. Here, the teardrop diamond will be encased by a metal setting, and hence, it will be secured from every angle. However, the diamond will be relatively low in this case.