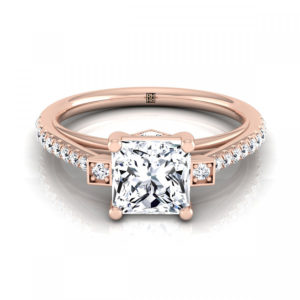 This means that the princess cut diamond is sure to appear bigger on the finger than its round-shaped counterpart. Some jewelers will even allow you to wear a princess cut diamond ring on a finger to find out how different it looks in comparison to a round-shaped ring.
The princess cut diamonds look dazzling in just about any engagement ring setting or style out there. In a solitaire, they are chic and contemporary. On the other hand, the princess cut gem with a halo setting has an ostentatious look with more sparkle.
When choosing it, ensure the length-to-width ratio of the gem matches your taste.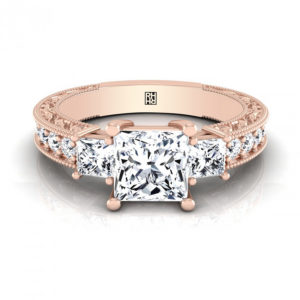 Most of the princess cut gemstones are square-shaped ones, but some of them are rectangular too. The gemstone shape was designed to make it diamond like a round one while offering a contrasting look in comparison to the latter. So, you can find a modern looking diamond ring here than a strictly traditional one. Besides, it is very easy to find the ideal princess cut diamonds bridal set these days.