Sapphires are highly prized as stones to set on engagement rings. It is the most precious variety of colored stone, with a characteristic blue color that comes with a range of intensities. Even royalty use it, such as when Prince William gifted his Duchess a sapphire engagement ring that once belonged to his late mother.
There are many shapes and cuts sapphires are made into, each oriented towards optimally showcasing the color and sparkle of the stone. These gems look spectacular when surrounded by accent diamonds, in what is called the halo style, because the smaller stones encircle the center gem in a way similar to an angel's halo.
Sapphires also look beautiful when you set them singly in a solitaire setting, with a metal shank holding the stone. The metal used in a diamond sapphire ring can be one among yellow gold, platinum, palladium, rose gold, and white gold.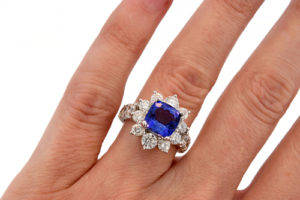 Even the size can vary because the stone need not necessarily be large or placed at the center. A small micro can be set in the form of an accent, on a rose gold band.