If you fancy the idea of selecting a wedding band akin to that of your fiancé but do not necessarily want it to fully match, there are plenty of ways to harmonize your wedding bands to an extent. You and your would-be husband can choose a couple of design elements of the wedding band to match, like precious metal as well as finish, but go for elements that vary to display your personal identities and styles. Below are some ways to mix and match his and hers diamond rings with coordinating style.
If you love milgrain design, note that the milgrain edge of men's ring might be subtle, while women's ring is likely to feature milgrain as well as exquisite accent diamonds. On the other hand, if you love sapphires or diamonds, men's rings might have a single stone or a row of gemstones that are vertically aligned, while women's rings feature gemstones across the ring band.
Further, you can select the same precious metal in distinct textures like, say, smooth and hammered white gold for women and men respectively. Alternatively, you can choose the different precious metals with the exact texture such as matte rose gold and platinum for him and her.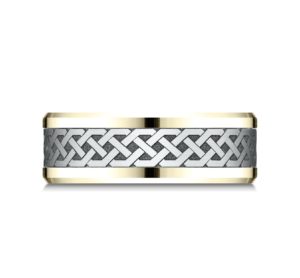 Another romantic option is to select a preferred phrase and engrave it on both the diamond wedding rings as if to form a complete sentence once joined. For instance, the wedding ring for her can be engraved with the three magical words "I Love You" or something unique like "Forever Yours".