One of the main things that affect the overall appeal of a diamond ring is its metal settings. There is a wide range of metal choices available to design a ring such as gold, platinum, silver, titanium, etc. Out of these, platinum metal is the most supreme one because of its inimitable qualities. No wonder, men's diamond rings usually feature platinum metal.
One of the main reasons for this is the exclusive appeal the platinum metal offers. In fact, it is so unique that around ten tons of mineral ore must be processed in order to get an ounce of platinum. As a result, this metal is very expensive, but it is worth every penny you spend on it.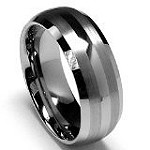 Another reason for choosing a platinum diamond ring for men is its incredible durability and strength. Unlike other metals, you will not have to worry about your metal settings or the security of gemstones in this case. Similarly, there is no need of regular cleaning and polishing when it comes to platinum diamond ring maintenance. So, you can save a good amount on your ring repair expenses.
The scratch resistance and hypoallergenic nature of platinum metal are also some factors that contribute to the idea of choosing a platinum diamond ring for men. Besides, the platinum metal may display a unique patina over time, but most people prefer this sheen to a polished or lustrous appeal.