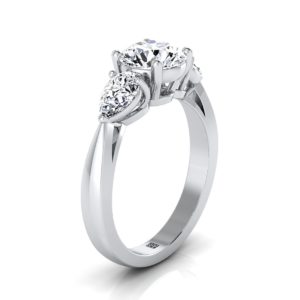 Diamond ring settings are crucial to ensuring the security of diamonds in a ring. Additionally, it plays an important role in enhancing the overall appeal of a ring. Note that the type of diamond ring settings for a gemstone will vary according to its size and shape. For instance, consider settings for pear shaped diamond rings.
Pear-shaped diamond rings exhibit an interesting silhouette that entails a curved and a pointed edge. Here, the pointed tip of the gemstone is its most vulnerable part and is prone to chippings, cracks, and all. Hence, you must be very attentive while choosing settings for pear shaped diamond rings. On a related note, the main thing that you must take care here is to choose a setting that secures the pointed tip of a pear-shaped diamond.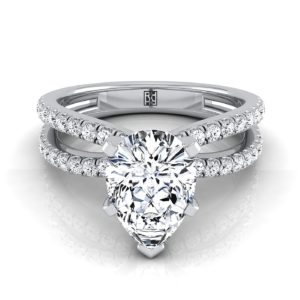 One of the commonly used settings for a pear shaped diamond ring is the traditional prong settings because it allows a maximum amount of light to enter the stone. As a result, the gemstone brilliance will be at its fullest. However, this is not a good option when it comes to the security of a pear-shaped diamond. In order to tackle this, you may choose V prong at the pointed tip and regular prongs at other parts. Otherwise, go for a bezel setting.