Diamond rings and other pieces of jewelry are usually given as a gift to friends and family members on special days to make the day even more memorable. Some of the special occasions where you can gift diamond rings to your loved ones are anniversaries, weddings, and engagements. Diamond jewelry is considered to be a token of love, and it will remind the wearer about the special and beautiful days in their life for a very long time.
Anniversary diamond rings and full diamond eternity rings are two of the most popular types of diamond rings that you can gift to your loved ones. However, many customers have a misconception that anniversary diamond rings and eternity diamond rings are the very same thing. The reality is that both these rings are very different.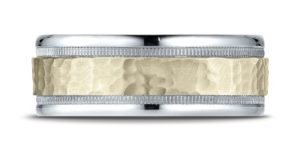 Most full diamond eternity rings contain an entire circle of gemstones or diamonds that are encircling the diamond ring. The metals in these rings are usually rose gold, yellow gold, white gold, palladium, or platinum. These rings are generally gifted on birthdays, childbirth, and other occasions. On the other hand, anniversary diamond rings are usually gifted on anniversaries in order to express the profound love and commitment between a couple.