Additionally, it plays a major role in boosting up the overall appeal of the ring. When it comes to radiant cut diamonds, it is really crucial to choose appropriate diamond ring settings in order to highlight its brilliance and fire to the fullest.
The radiant cut diamonds flaunt a square outline and trimmed edges that make them a perfect choice for the center stones. This type of gemstone is ideal for all those couples who are smitten by the utmost radiance offered by a round brilliant cut diamond and the attractive silhouette of an emerald cut diamond.
There are many beautiful radiant cut diamond engagement ring settings, which you may consider to spruce up your special day. For instance, consider a platinum diamond ring that boasts a radiant cut diamond of respectable size at the focal point in such a way that it floats above the band. Additionally, you can lift up the sparkle of the engagement ring by paving the delicate diamond ring band entirely with melee diamonds.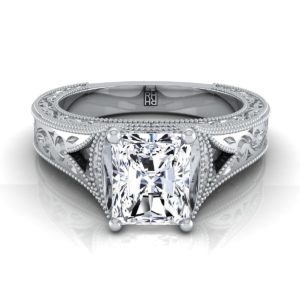 Another best option for radiant cut diamond engagement ring settings is a 22k yellow gold ring that is prong set with a radiant cut diamond at the center. Here, the diamond ring band is embellished by paving tiny baguette accents and round diamonds in an alternating manner.