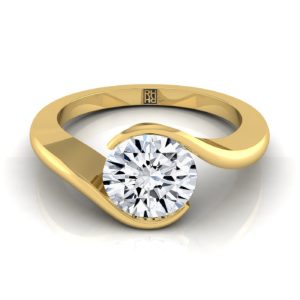 Fortunately, there are many contemporary diamond rings available in the market. A tension diamond ring is one of the best contemporary diamond ring designs to choose from.
In a tension set diamond ring, a gemstone of respectable size is secured at the center of the ring by means of the tensile force excreted by the band from either side. However, there will be grooves at both edges of the band in order to hold the gemstone well in place. This will be mostly invisible, with the result being an illusion of the gemstone floating in the air.
Baguette rings are another great option for modern diamond rings. You can either use baguettes as accents or as the main gemstone. The latter option, however, is the best bet if you prefer contemporary diamond ring designs. In such designs, a baguette diamond of respectable size is usually bezel-set at the center of a 22k yellow gold diamond ring.
Modern diamond rings feature various designs for diamond ring bands as well. For instance, there are split shank bands, crossover bands, twisted pair bands, patterned or engraved bands, etc.