Thin metal bands can trick your eyes and make your fingers appear longer as well as more elegant.
Despite the small surface area of thin bands, they can be gorgeously finished and accentuated to suit the personal style of women. The distinct precious metals, gemstones, and fine details possible make sure thin bands are not a passé but a trend that is here to stay.
In case your girlfriend has a tomboyish attitude or a masculine persona, you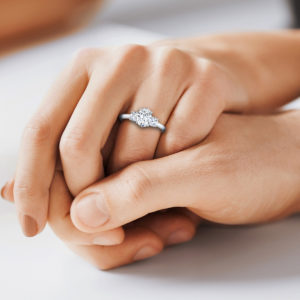 might want to consider a thick band in place of a thin one. Thin metal bands appeal to those who are feminine. A band measuring amid 1.5 and 2.0 millimeters in width can be the perfect size for a diamond ring thin band. Thin metal bands are delicate in terms of look and highlight the centerpiece diamond. You can even compliment your thin band featuring the sparkling center stone with feminine or artistic patterns.