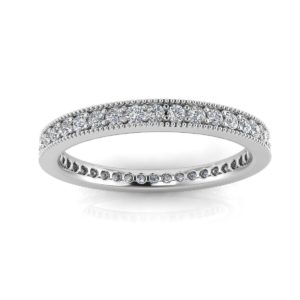 In case of pave diamond ring settings, the diamonds or other gemstones are paved on a metal setting.
Usually, the gemstones are held closely in the pave diamond band ring and set into the tiny grooves on the metal surface. Here, the gemstones are arranged in such a manner that the prongs that secure the stones are barely visible in order to offer a continuous bling.
Pave diamond ring settings are often used to embellish the band of a ring to spruce up the overall magnificence of a ring and to highlight the main gemstone. This will be particularly suitable for beautifying the center diamond that is less brilliant.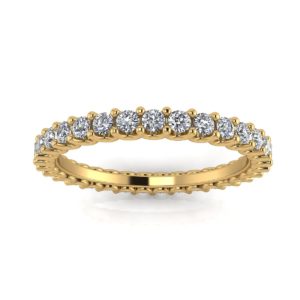 One of the major advantages of considering a pave band diamond ring is that it can be designed in both vintage and contemporary styles. However, note that the minimum carat weight of a gemstone must be 0.1ct in order to pave set it; the stones with a lesser carat weight are usually micro paved on a metal setting.