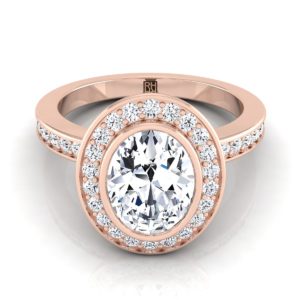 This way, you will get a sparkler that showcases an ultimate brilliance of a round diamond, but with a modern appeal. Additionally, oval diamond rings appear bigger than other gemstones of similar carat weight, and hence, this is an affordable option for a diamond engagement ring.
Unsurprisingly, there are many beautiful designs available for oval diamond rings. For instance, consider one that flaunts a huge oval diamond at the center of an 18k rose gold ring. It is secured by means of attractive bead-like prongs and accented with a small heart-shaped diamond on either side. Additionally, the main gemstone is encircled with a halo of melee diamonds using mini beaded-prong settings in order to lift up the overall sparkle quotient of the ring.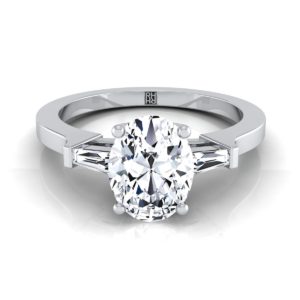 Another trending design for oval diamond rings features a decent size diamond secured at the center of a platinum ring by means of traditional prong settings. Furthermore, the outline of center diamond is as also clustered with accent diamonds so that it offers a vintage appeal to the sparkler.