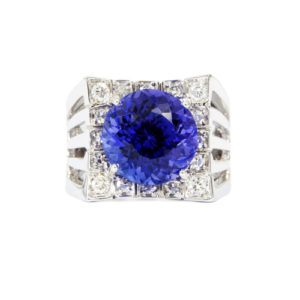 Solitaire diamonds is a great option to gift your spouse.  Flaunting rare diamond engagement rings will be a great way to draw the attraction of people instantly towards the stone diamonds.
Choosing a colored gemstone is a perfect option to offer a unique and striking appeal. In this design, blue sapphire is displayed at the center of a 22k yellow gold band. In order to add to the beauty, a tiny solitaire is on each side of the gemstone.
In this three-layered diamond ring, top layer and the bottom layer of the ring is beautified by paving it with tiny brilliant diamonds. The middle band is highlighted by using black pearls along with white pearls in an alternating pattern. Here, all the gemstones are secured on the 22k yellow gold by means of mini prongs.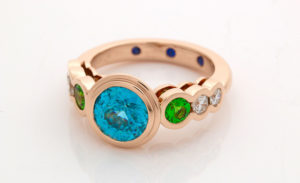 Colorful diamond bands are always in vogue. In this unique diamond ring design, an 18 karat gold band is embellished with emerald-cut diamonds of medium size. In order to enhance the overall appeal, multi-colored diamonds are used here.