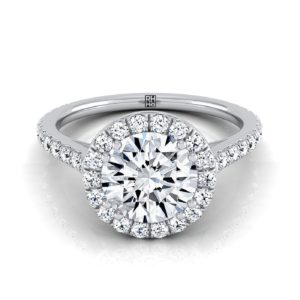 Here, the accent stones are held in place using a mini prong setting as well. This indeed offers an extra protection for the main gemstone.
The overall impact of a diamond engagement ring with halo is sure to create an illusion of a huge solitaire at the center of a ring. In addition, you can highlight the focal point by choosing colorful melee diamonds around it as well. Hence, a diamond halo ring is suitable for all those brides who prefer a huge and sparkling diamond ring, but at an affordable budget range.
There are many amazing options to design a diamond engagement ring with a
halo. One of the timeless halo diamond ring settings features a sapphire stone at the center of a platinum diamond ring. It is surrounded by a halo of melee diamonds, which are secured by means of bezel settings. You can also choose a double or triple halo if you like a sophisticated or vintage appeal for your diamond halo ring.