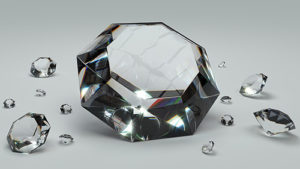 If you were looking for a unique diamond engagement ring, which would make you feel bold and trendy, look no further – go for a black diamond 3 stone ring. You can choose a black centerpiece in this design, and have two sparkling white diamonds on each side to accentuate the center stone. However, choosing a rare natural black diamond can add to the overall cost of the ring.
If you were on a tight budget, you can choose lab created black diamonds instead of natural stone. Worry not, color enhanced black diamonds are not fake, as most people usually assume, but white diamonds that are exposed to radiation under controlled laboratory settings to get the intense black color. Note that such treated black diamonds are not that opaque as natural black diamonds are, and consequently, they are less valuable. Yet again, an untrained eye cannot tell the difference between a lab-made black diamond and a natural black stone, which makes it a much affordable and viable option for your engagement rings.
You can even choose to have a halo of natural white diamonds around the lab created center black diamond for your engagement ring instead of going for the 3 stone design. Just make sure the overall cost of the diamond remains well within your pre-determined budget.