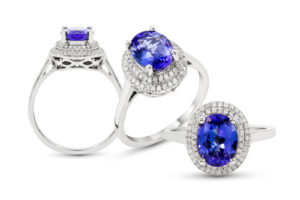 Tanzanite gemstones are commonly used in the ring settings along with diamonds, and they are rarely seen as the main center stone. However, they do have attractive hues of violet and blue all the way, which can be a perfect match for the pale baby color portrayed by yellow gold, rose gold, as well as white gold.
If you were choosing tanzanite as the center stone of your engagement ring, the classic halo design in white gold would be a good option. The eccentric and unique essence of bluish charm perfectly matches the white diamond of the halo diamonds to bring a glorious appearance to the white gold tanzanite and diamond ring.
In fact, tanzanite would be just the thing if you wanted to bring a look of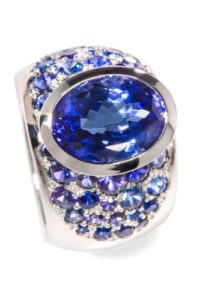 sapphire into your ring while keeping the budget low. Experts predict that it is a great asset too, because once the gemstone runs out of stock, the prices would skyrocket. Note that all the tanzanite gemstones found in the market are natural because there is no technique found yet to fully synthesize them.